The first season of Marvel's Spider Man premiered on August 19th, 2017.
Synopsis
Peter Parker is learning the responsibility that comes along with being a new, super-powered hero in New York City, just as he's being accepted into Horizon High, a high school for brilliant young scientific minds. He struggles with the duality of his social life at school and hiding his secret identity from everyone including his best friend Harry Osborn, who attends the competing Osborn Academy for geniuses. As Peter embraces his alter-ego and takes on super villains such as Vulture, Lizard, Doctor Octopus and Sandman, he watches his hero lifestyle come between his personal relationships and struggles to keep Harry from landing on the wrong side of the law.
Cast
Main Cast
Recurring Cast
Episodes
Confirmed Plot Points
The Venom storyline will be connected to Guardians of the Galaxy story and they might also have a crossover.
Spider-Island is a confirmed story to be in this season.
Number
Name and Synopsis
Written By
Directed By
Air Date
1-2
Horizon High
Kevin Shinick
Phillip Pignotti
August 19th, 2017
Part 1:

Peter is accepted into Horizon High, a school for geniuses, where his best friend Harry Osborn just got suspended. Later on, Peter makes his debut as Spider-Man and must battle the Vulture.

Part 2:

Spider-Man must work to stop the Scorpion from wreaking havoc at the museam.

3
Origins
Kevin Shinick
Dan Duncan
June 28th, July 25th to 29th, 2017.
The story of a young but courageous teen (Peter Parker) who has to figure out how to be a superhero from the very beginning.
4
Osborn Academy
Kevin Shinick
Sol Choi
August 26th, 2017
Norman Osborn creates the Osborn Academy for Geniuses as a way of saving his son Harry the embarrassment of being suspended from Horizon High.
5
A Day In The Life
Mike Fasoli
Dan Duncan
September 2nd, 2017
Peter tries to juggle his complicated life while he hunts down the Black Cat, before he's done in by his bad luck.
6
Party Animals
Sterling Gates
Sol Choi
September 2nd, 2017
Horizon High throws a dance in honor of Harry being exonerated, but Norman asked Harry to stay at Osborn Academy.
7
Sandman
J.T. Krul
Dan Duncan
September 16th, 2017
Spider-Man meets the powerful, yet uncontrollable Sandman and helps him reunite with his estranged daughter with the help of the Venom symbiote.
8
Symbiotic Relationship
Kevin Burke & Chris "Doc" Wyatt
Sol Choi
September 16th, 2017
When Spider-Man uses his new black costume, he discovers that there is great danger in his new power; and he must find a way to defeat a costume that wants to destroy him.
9
Stark Expo
Kevin Shinick
Dan Duncan
September 16th, 2017
After the terror of the symbiote, Spidey is off to the Stark Expo in his old costume. When Ghost hijacks the event, Spidey's only chance to save lives is to unleash the symbiote.
10
Screwball Live
Ben Joseph
Sol Choi
October 28th, 2017
Spider-Man faces Screwball,a criminal with intelligence, when she broadcasts a hunt for Spider-Man.
11
Ultimate Spider-Man
Kevin Shinick
Dan Duncan
September 23rd, 2017
When Miles Morales is bitten by an experimental spider and gains spider powers, Spider-Man must teach him the responsibilities of being a superhero.
12
Kraven's Amazing Hunt
Chris Cox & Kevin Shinick
Sol Choi
September 30th, 2017
Kraven the Hunter does a live broadcast of his hunt for Spider-Man.
13
Halloween Moon
Kevin Burke & Chris "Doc" Wyatt
Dan Duncan
October 7th, 2017
On Halloween Night, Spider-Man must team up with the Incredible Hulk to stop Man-Wolf, a super-strong gamma-powered werewolf, from infecting the rest of Manhattan.
14
Spider-Man on Ice
Sterling Gates
Sol Choi
October 14th, 2017
Spidey must stop a low-level villain who has acquired some impressive freezing technology.
15
Venom
Kevin Shinick & Paul Giacoppo
Phillip Pignotti
October 21st, 2017
The symbiote has escaped the Avengers Compound and attached itself to a new host. Now Spidey must find out how to beat it and who the new person is underneath.
16, 17, 18 and 19
Rise of Doc Ock
To Be Known
To Be Known
January 21st, 2018

January 28th, 2018

Part 1:

When Otto Octavius is caught in an explosion that fuses his robot arms to his body, Spider-Man sees the opportunity to recruit "The Octopus" into becoming a hero.

Part 2:

Spidey invites The Octopus to patrol the streets alongside Miles and himself until it becomes clear that Otto isn't exactly a team player.

Part 3:

Peter spends a day at Oz Academy in the hopes of finding a clue that will convince Harry that his Dad is out to destroy Spider-Man.

Part 4:

Spider-Man must team up with Gwen Stacy and a reluctant Harry Osborn to investigate the truth behind the missing Raymond Warren aka The Jackal.

20, 21, 22, 23, and 24
Spider-Island
To Be Known
To Be Known
February 4th, 2018

February 11th, 2018

Part 1: Invincible Threat

Coming Soon!

25 and 26
The Hobgoblin
Kevin Shinick
Sol Choi
February 18th, 2018
Gallery
Promotional Images
Videos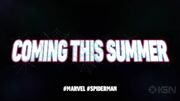 Trivia
References
Other Links
Ad blocker interference detected!
Wikia is a free-to-use site that makes money from advertising. We have a modified experience for viewers using ad blockers

Wikia is not accessible if you've made further modifications. Remove the custom ad blocker rule(s) and the page will load as expected.